Comprehensive Eye Checkup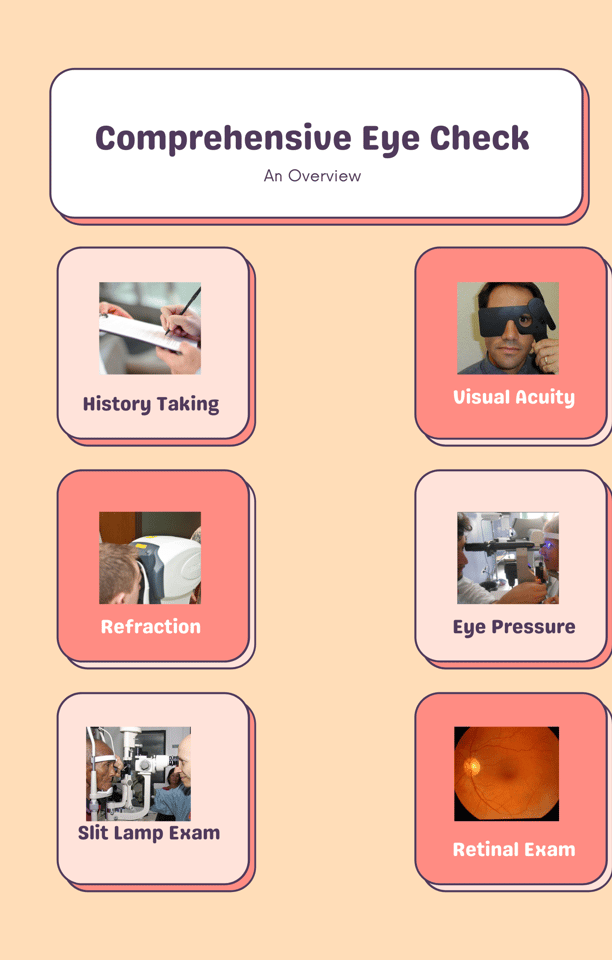 During this exam, an eye medical doctor or Ophthalmologist will undertake a few tests based on age symptoms/ signs and medical & family history etc.
To confirm eye health status, an eye doctor will check any or all of the following throughout eye examination:
Visual acuity (sharpness/ ability of your eye to resolve/ fitness of vision)

Refractive error or power of glasses (nearsightedness, farsightedness, astigmatism, or presbyopia)

Autorefractors (also known as aberrometer or colloquially computerised eye testing) for approximation of the eye power

Cycloplegic Refraction (Refraction using dilation drops)

Steroposis for the depth perception

Retinoscopy

Pupil Dilation

Eye Pressure (intraocular Pressure or pressure due to liquid inside the eyeball)

How acceptably the eyes team together (Eye muscle balance or oculomotor balance)

Peripheral (side) vision

Colour vision (normal or deficient or colour blindness)

Tear Film assessment for the Dry Eyes

Eye examination through a special microscope (slit lamp/ biomicroscopy) to assess eye structures in detail (Eye Anatomy)

Dilated eye examination to assess optic nerve head and retina

Visual Field Analysis

Need-based Digital review (or computerised through high-end equipment) of the eye is done.
My Eye Clinic houses experienced healthcare professionals including Doctors, opticians, optometrists along with advanced diagnostic equipment to assess, diagnose (and treat or manage, if necessary) more serious eye conditions.
Therefore, patients also visit us / or are referred by other doctors and healthcare professionals, consisting of different eye ailments/ symptoms/ signs and diseases or medications.
Subscribe to our newsletter
My Family Clinics Location
Although we accept walk-in patients, an appointment is preferable to value your time minimise clinic stay. Preference is given to medical triage followed by the patient with a scheduled appointment.
Just what's app/ text or call us (9 am to 9 pm). We prefer to schedule your appointment as per your time preference. Averagely it takes 30 to 45 minutes of clinic stay for the patient, it may take longer based on the illnesses. Following things will help to serve you better
Current medical ailments/ symptoms and signs
Doctor/ Service you are looking for
Date and Time preference
You will receive a confirmation by call/ text/ WhatsApp along with the geolocation and with a google form. Filling up a google form may reduce time by around 15 minutes.
Schedule an Appointment now
B-6, Ground Floor, Greenfield Colony, Faridabad

All Days
9am - 9pm

Contacts
+91-88 60 88 88 86
consult@myfamilyclinics.com